When I started developing MarkdownPad 2, a major design criteria was to offer support for additional languages. MarkdownPad has been downloaded by users from around the world (including 171 different countries and territories!), and I wanted to offer a product that had the ability to speak the language of every user.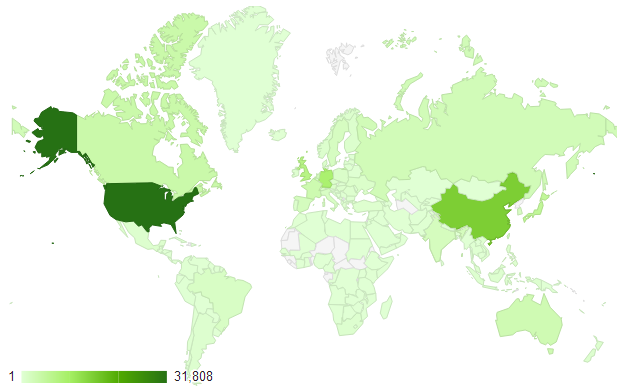 A map of MarkdownPad downloads from around the world
Today I'm pleased to announce the release of MarkdownPad 2.1.4, which adds support for the first two sets of new languages:
Chinese (PRC, zh-CN)
Portuguese (Portugal, pt-PT)
Existing MarkdownPad 2 users will get this update automatically (the update can also be manually initiated under Help → Check for Updates), and new users can download MarkdownPad 2.1.4.
Many other languages are currently in development, but we're always looking for help translating MarkdownPad. If you'd like to help translate MarkdownPad into your language, check out the MarkdownPad Translation Project.
My sincere thanks go to Sérgio Costa for translating Portuguese (Portugal), and Hu Junqing and Wu Qingyuan for translating Chinese (PRC).
Keep an eye out for more languages being available soon!
Evan Wondrasek
Developer, MarkdownPad